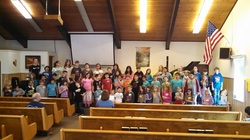 God Squad!

An outreach Sunday School we have every Wednesday after school in October and November, then again in February and March. This last session we had over 70 children! we end each 2 month session with a party and program in which the children sing the songs and repeat the verses they have memorized. It is a lot of fun and the children really look forward to it! For additional information contact Hetty Bouma.


---
Ladies Bible Study

Mondays at 1pm here at the church.




---
Missions that we support. (We are in the middle of updating these, so I will add to the list in a few weeks!)

Rescue Missions International, Sierra Leone, West Africa.








---